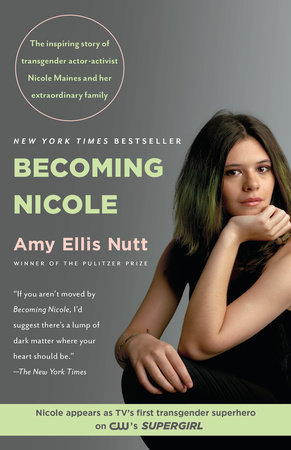 Special Events | 2017 Arlington Reads Together Program
All events are free and open to the public.
(check back often as some programs are in the process of being finalized)
Arlington Reads Together Kick off with Nicole Maines: You are Part of the Story
Saturday March 4, 2017 at 1:00 p.m.
Arlington Town Hall
Arlington Reads Together 2017 kicks off with a special event! Join us for an afternoon with Nicole Maines, the subject of our 2017 selection "Becoming Nicole: The Transformation of an American Family" by Amy Ellis Nutt. Nicole's talk "Transgender: You're Part of the Story" will be inspiring to teens and adults as she recounts her life and work to tell the world who she is.  Nicole's appearance in Arlington is made possible by the Library Board of Trustees, Vision 2020 Diversity Task Group, the Friends of Robbins Library, and the Friends of Fox Branch Library.

Following the event, The Book Rack will be selling copies of "Becoming Nicole" and Nicole will be signing books.
This event is free and open to all. Registration is suggested.
LGBTQ Teen Social with Nicole and Parents Forum with Wayne Maines
Saturday March 4, 4:00 p.m.
First Parish Unitarian Universalist Church
Socials for teens and parents following the event.
Tickets available at the Kickoff Event, first come first served.
Event Sponsors: Vision 2020 Diversity Task Group and First Parish Unitarian Universalist Church
Plugged In to Transgender Health
Tuesday, March 7, 7:00 p.m. – 8:30 p.m.
Robbins Library Community Room
True Story Theater: "Becoming Nicole" stories
Wednesday, March 15, 7:00 p.m. – 8:30 p.m.
Robbins Library Community Room
You are invited to an exploration that honors the experience of people who have often been stigmatized for simply claiming their own true identities.
True Story Theater will invite participants to share their thoughts and feelings about "Becoming Nicole: The Transformation of an American Family", the 2017 Arlington Reads Together selection, and about their relationship to the experience of trans* and different gender identities.
True Story Theater will use improvisational drama, music, and movement to enact and honor what is shared by audience volunteers.  All are welcome at this event. It's fine to come and simply watch and learn from what others share.
TEDxRobbinsLibrary: Transgender Talks
Friday, March 17, 12:00 p.m. – 1:00 p.m.
Robbins Library Community Room
Join us for our monthly TED viewing and discussion. Bring a lunch and watch 4 prerecorded TED talks on a theme. This month the theme is Transgender Talks, in support of Arlington Reads Together. We'll watch and discuss: Ivan Coyote on Why we need gender-neutral bathrooms; Lee Mokobe with  A powerful poem about what it feels like to be transgender; Norman Spack on How I help transgender teens become who they want to be, and iO Tillett Wright with 50 Shades of Gay. TED is a nonprofit devoted to spreading ideas, usually in the form of short, powerful talks 18 minutes or less A brown bag lunch is welcomed.
Reel Queer
Tuesday March 21, 6:30 – 8:30 pm.
Robbins Library Community Room
The Robbins Library & the Arlington Council on Aging are proud to present a screening of Transamerica. Transgender woman Bree Osbourne makes an unexpected cross-country journey when she learns that she fathered a son, now a teenage runaway, hustling on the streets of New York. This film is rated R and running time is 1 hour 43 minutes. Questions?  Email Rob at rlorino@minlib.net or call Marci at 781-316-3419.
Gender Spectrum Panel
Tuesday, March 28, 7:00 p.m. – 8:30 p.m.
Robbins Library Community Room
There is no way one way to be trans. This panel brings together 3 individuals who have a variety of gender identities that fall under the trans* umbrella: transgender, genderqueer, nonbinary, or otherwise gender variant. Hear about their professional experience working with trans* people and personal experiences being part of the trans* community. Meet the panelists:
AJ Brown is gender fluid/androgynous and works as a therapist at a non-profit psychiatric hospital.

Taj Smith is black, transgender, and Christian. He graduated from Harvard Divinity School in 2016 and currently works there as an Academic Coordinator.  

Bobbi Taylor identifies as genderqueer and serves as Vice Chair of the Massachusetts Transgender Political Coalition and as an LGBTQIA+ representative on the State Commission for Unaccompanied Homeless Youth.
The Pineapple Project: A children's play that explores gender and imagination
Wednesday, March 29, 3:30 p.m. – 4:00 p.m.
Fox Branch Library
The Pineapple Project is a fun 30 minute theater piece that validates each child's individual freedom to be who they are.  The show portrays moments of empathy, perspective, and a deeper understanding of others.  Learn about friendship and being your genuine self, while having some belly laughs along the way!   Best for kids ages 3-8 with parent/caregiver.
Becoming Nicole Book Discussions:
Please join us at one of the following book discussions to discuss the themes in "Becoming Nicole".

Wednesday, March 8, 6:30pm – 7:30pm @ Fox Branch Library
Thursday, March 9, 7:00pm – 8:30pm @ Arlington High School with Arlington Community Education
Tuesday, March 14, 11am – 12pm @ Robbins Library Conference Room
Wednesday, March 22, 7:00pm – 8:30pm @ Robbins Library Conference Room
Friday, March 24, 12pm – 1pm @ Robbins Library Conference Room.  Bring a Lunch!
About the Book:
Arlington Reads Together committee has selected "Becoming Nicole: The Transformation of an American Family" by Amy Ellis Nutt as the 2017 community read. Programming around this book will take place in March 2017, and will include book discussions, panels, films, and more.  This book stood out to the committee as an aspect of diversity that has not yet been explored through a community read. Arlington has a history of supporting LGBTQ+ rights. Most recently, Arlington Town Meeting passed Article 18 expanding equal protection to cover gender identity and expression in Arlington.
Becoming Nicole, published in 2015, is the story of an American family, rural living, middle-class, politically conservative, who adopt identical twin boys. Around the age of 2, one of them begins to identify as a girl. Becoming Nicole tells the story of a mother trying to ensure her family's safety, a father struggling to understand and accept, a twin brother, loyal to and protective of his sister, and Nicole at the center, a young girl fighting for her place in the world. Amy Ellis Nutt places the family's journey in the larger social, legal and medical context.