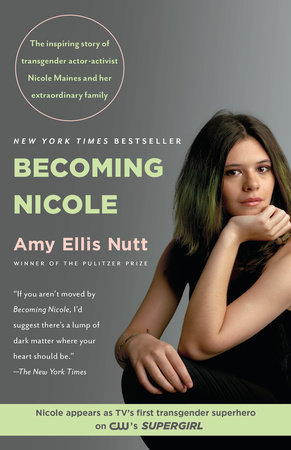 We recently learned from GLAAD that November 14th through November 20th is Transgender Awareness Week #TransWeek, created "to help raise the visibility of transgender and gender non-conforming people, and address the issues the community faces."
It seems like a great week to announce that the Arlington Reads Together committee has selected "Becoming Nicole: The Transformation of an American Family" by Amy Ellis Nutt as the 2017 community read. Programming around this book will take place in March 2017, and will include book discussions, panels, films, and more.  This book stood out to the committee as an aspect of diversity that has not yet been explored through a community read. Arlington has a history of supporting LGBTQ+ rights. Most recently, Arlington Town Meeting passed Article 18 expanding equal protection to cover gender identity and expression in Arlington.
Becoming Nicole, published in 2015, is the story of an American family, rural living, middle-class, politically conservative, who adopt identical twin boys. Around the age of 2, one of them begins to identify as a girl. Becoming Nicole tells the story of a mother trying to ensure her family's safety, a father struggling to understand and accept, a twin brother, loyal to and protective of his sister, and Nicole at the center, a young girl fighting for her place in the world. Amy Ellis Nutt places the family's journey in the larger social, legal and medical context.
Amy Ellis Nutt is a Pulitzer Prize winning reporter for the Washington Post where she writes about science. "Becoming Nicole" was a 2015 New York Times Notable Book, named a Top Ten Book of 2015 by People Magazine, and was a finalist for the LAMBDA Literary Award for Transgender nonfiction.
Arlington Reads Together started in 2002 as a way to bringing together the community through literature. The goal is to address issues, understand differences and create connections through the shared experience of one book. Watch this space for program updates and news!